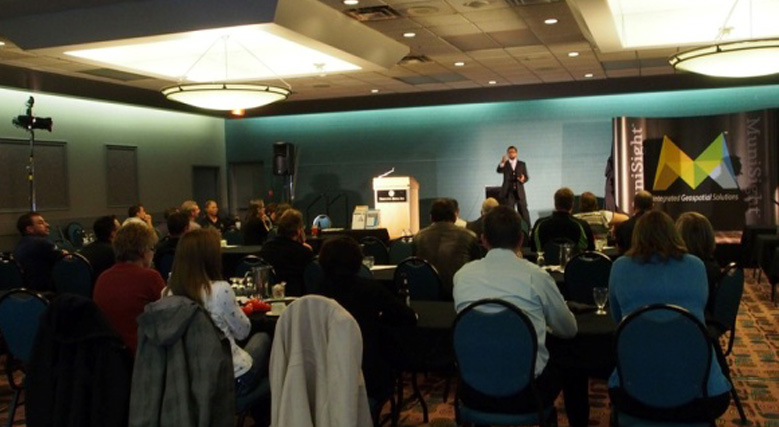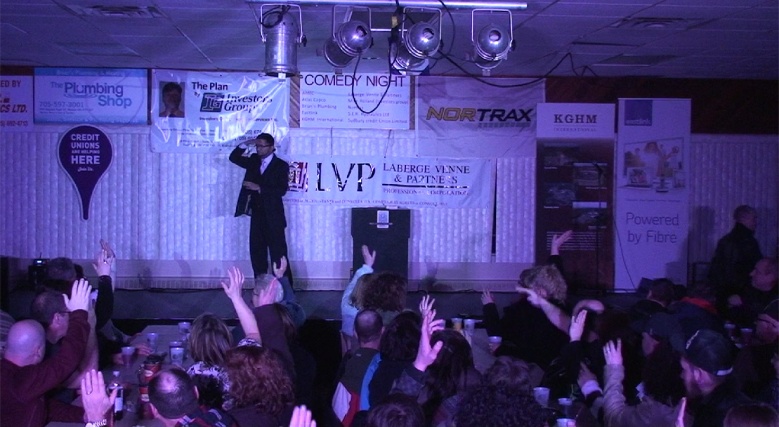 Stage Shows for
Adult Audiences
Sophisticated Stage shows (magic, mentalism & mind reading) by Toronto's best corporate event magician, mentalist & mind reader. Wij's Comedy Magic Show and his Mind Reading & Mentalism Show are both suitable for adult corporate audiences. Ideal for corporate events, conferences & private parties. Typically an after dinner entertainment.
Comedy Magic Show
(magic injected with lots of comedy)
Wij's one liners and quick wit will have your guests laughing and having fun right away.  It's unbelievable magic mixed with lots of audience participation and situation comedy. Expect to see the impossible, expect to laugh out loud.
The Hilarious "You Were In My Dream" routine
World's Funniest Card Trick
It Slices & Dices! (the element of danger + audience volunteer = laughter guaranteed!)
Elegant Rope Magic or The Most Ridiculously Funny Rope Routine? You choose.
Wij (apparently) Teaches A Trick To The Whole Audience (only the audience is more mystified by the end of it).
Borrowed finger rings & signed $100 dollar bills vanish right before you very eyes, only to magically reappear moments later in the most impossible locations (eg. one audience member's signed bill vanishes only to reappear inside a lemon held by another audience member.
Performed on a grander scale to a seated audience using bigger props. This sophisticated comedy magic show is perfect for a corporate audience of all sizes.
Mind Reading & Mentalism Show
(inexplicable mind mysteries)
Have you ever had your mind read? Wij claims no supernatural abilities  but using his intuition, psychology, persuasion skills, & through non verbal communication  techniques, convincingly demonstrates mind reading & other psychic like abilities.
Merely Thought of Words, Names and Places will be revealed in a humorous and engaging fashion. (3 audience volunteer's thoughts revealed)
Lie To Me… If You Can! Wij the Human Lie Detector demonstrates the power of reading body language & voice tones. (5 audience volunteers get their chance to beat the human lie detector)
Humorous demonstrations of Mind Control.
Is it possible to Predict Human Behaviour? Lottery Numbers? See for yourself.
Predictions Made during and before the show are shown to be 100% accurate.
Just Chance (audience volunteer & his $100 bill – the element of danger to his $100 bill, the ever increasing odds of it being destroyed = just too funny to put into words)
These and other mind mysteries are tailored to be engaging, inexplicable and highly entertaining. Even the most sceptical audience will be astounded. A fun clean show for an astute corporate audience.
Magic & Mentalism Show
(the most popular choice for corporate entertainment solutions)
Wij found that many company decision makers and event planners had a hard time choosing between the Comedy  Magic Show and the Mind Reading & Mentalism Show mentioned above. For this very reason, Wij specifically created this Magic & Mentalism show, it's a fusion of the comedy magic, mind reading & mentalism so you get the best of both shows.
All of Wij's corporate stage shows are not about doing tricks or demonstrations but about entertaining an audience with the tricks and effects. The tricks and demonstrations are merely a vehicle to bring an audience together with fun , laughter and amazement.
Here are what other corporate clients have to say
about Wij`s stage shows.
"Thank-you so much for your superb performance. The magic show you provided for our staff was outstanding. …were blown away by not only your technical skill…but also by your brilliant comedic presentation. I myself was particularly impressed by your range -from close up cards and coins, to mentalist and stage magic…all flawless ! But most of all…you were fun !!! Michael E. Lem (Vice President of The Lem Group), BMO Nesbitt Burns
"…Thank you for making our Christmas party a successful one. Everyone thoroughly enjoyed themselves. Over the last couple of days, we've talked about the trick where you try to cut off Mrs. Mori's arm off. Folks around here are still laughing about it! It was so well done. That will be one of many moments never to be forgotten… Debbie MacNaughton, Sumitomo Canada Limited
"The office is still talking about the show. You exceeded our expectations. I will make it a point of referring to my friends and clients. You will hear from me again in the future." Kevin Casey, QJS Specialty Cleaning Inc.